Blog of the Week: Taking Mr. Alexander for a Drive
Originally posted by by Robert Rickover on May 9, 2013 at www.BodyLearningBlog.com.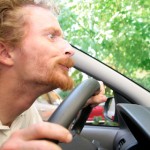 The late Alexander Technique teacher Marjorie Barstow had a special interest in the way automobile drivers carried their heads on top of their spines.  She would frequently suggest we take time to look at other drivers while we were stopped at a traffic light. "You'll be amazed at what people do to themselves in a car" she would say. And whenever I'd drive her somewhere – often to her favorite steakhouse – she would comment on the bizarre postures she observed in the cars we passed.
It's actually a pretty interesting exercise.  And a useful one particularly if you ask yourself: "Could I be doing that too?"
Some of us spend a lot of time driving and there are all sorts of opportunities to tighten our necks, restrict our beathing and clench the steering wheel in response to traffic conditions, other drivers' bad behavior, the weather, the news on the radio…the list goes on and on.  And of course as texting and talking on cellphones while driving becomes more common, the opportunities for distorting ourselves have expanded significantly.